The main parts of the air conditioning compressor are cylinder, crankshaft, bearing, cylinder head, flange, frame and so on. The main material is gray cast iron and spheroidal graphite cast iron, which is mainly made by casting. The PCBN integral blade is applied to the end face of the air conditioning compressor parts, rough, fine turning and boring of the outer circle. Compared with the similar tools, the efficiency is increased by 10%, and the life span is increased by more than 15%.
Workpiece Name: air conditioner compressor flange; workpiece material: HT250220-240HB
Cutting parameters: Vc=500-800m/min; f=0.3mm/r; ap=0.5mm.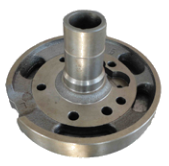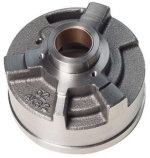 Workpiece Name: air conditioning compressor cylinder; workpiece material: HT250220-240HB
Cutting parameters: Vc=700m/min; f=0.3mm/r; ap=1.5mm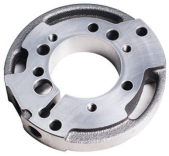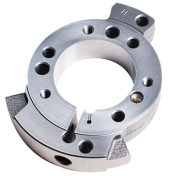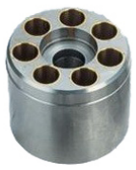 Workpiece Name: upper bearing, cylinder; workpiece material: HT200, HB170-210
Cutting parameters: Vc=400-600m/min, f=0.25mm/r, ap=2-2.5mm